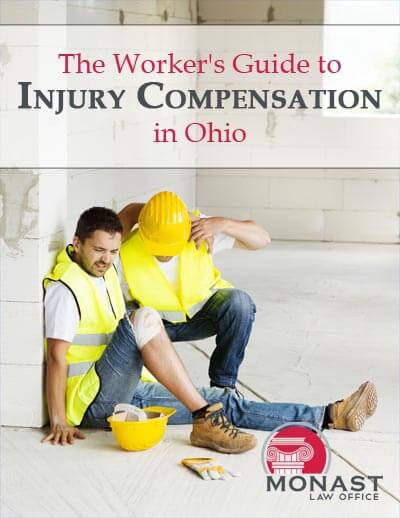 More than 100,000 workers are injured on the job each year in Ohio, according to the Ohio Bureau of Workers' Compensation. After a workplace accident, injured workers should be able to focus their efforts and energy on recovery. Instead, many spend hours combing through online search results, desperate for reliable information that can help them navigate Ohio's complex workers' compensation claims process.
Monast Law Office has made learning about at-work injury and compensation as simple as possible, compiling their best blogs on the subject into an informative eBook, The Worker's Guide to Injury Compensation in Ohio. Our information-packed eBook will teach you in under 30 minutes how to handle filing a claim, steps to take to avoid contested claims and what to expect if you have preexisting conditions.
Our Free Book Answers Questions Such As:
What Should I Do If I'm Injured on the Job in Ohio?
Steps to Take in Order to Avoid a Contested Claim
How do I properly report an injury at work?
Can I be fired for filing a workers' compensation claim? (And much, much more!)
James Monast is a board-certified workers' compensation attorney in Columbus and has more than 32 years of experience handling workers' compensation claims in Ohio. He's ready to use his in-depth knowledge of the law and the Ohio Bureau of Workers' Compensation to help you fight for the compensation you need and deserve.
Download your free copy of The Worker's Guide to Injury Compensation in Ohio today to gain a better understanding of Ohio's workers' compensation laws. You can also purchase a paperback version on Amazon. If you have questions, call Monast Law Office at 614-334-4649 or contact us to schedule a free initial consultation to discuss your workers' compensation case.