Have You Experienced A Work Related Injury?
Speak With Our Workers' Compensation Attorney
We Represent Injured Workers in Upper Arlington, Columbus, and Throughout Ohio
Injured at work? Hurt in a job-related auto accident or assault? Since 1985, Board-Certified Workers' Compensation Specialist James Monast has been helping residents of Ohio to receive workers' compensation, restore lifestyles and livelihoods harmed by work accidents, deaths and exposures, occupational diseases and other disabling conditions.
Years of Experience in Workers' Compensation Cases
Get the help you need with your Ohio workers' compensation claim and get the benefits you deserve. Trust the board-certified workers' comp specialist at Monast Law Office to help you make things right when you've suffered an injury at work or workplace accident. We know what it takes to win your case, and we're committed to getting you full compensation for your on-the-job injury. Common injuries and types of cases include:
Bending, lifting and back injuries
Shoulder and knee injuries
Machine-caused injuries
---
---
Get Help From Our Ohio Workers' Compensation Law Firm
Get the workers' compensation you deserve with the help of Monast Law Office. We can help you:
To schedule your free, no-obligation consultation, call 614-767-5644 or complete the form.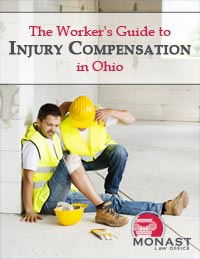 Free Guide Walks Injured Ohio Workers Through Workers' Comp Claims Process
Injured at work and eager to explore your legal options? Our free guide walks injured Ohio workers through the workers' compensation claims process. Learn more.
View Details
What Should You Do If You've Been Injured on the Job?
1. Report your injury
A common mistake people make surprisingly often is failing to report their work injury as soon as possible after it occurs. Regardless of the severity of your injury getting proper documentation is critical for ensuring you receive compensation.
2. Get Treatment
Seek medical treatment as soon as possible after the injury occurs. Depending upon the severity of the injury, you may decide to make an appointment with your family doctor, go to an Urgent Care facility or to the nearest emergency room.
3. File Paperwork
Make sure to file appropriate paperwork as soon as possible. Although the FROI-1 is often filed by the health provider, it is best to follow up with your employer's benefits department and/or human resources personnel and with the BWC to make sure it has been filed.
4. Contact an Attorney
If you are not happy with the treatment or attention you are receiving as a result of your injury, or if you feel that its not being taken seriously or handled properly by your employer, you should consult a compensation attorney.